Folklore, whose word was coined in 1846 by W.J. Thomas, indicates the historical and comparative study of tradition and popular art; Folklore, which in its most intimate and true essence is popular culture, history and art together crystallized in popular forms and customs, represents a moment not at all secondary in the artistic and cultural activity of the people. The ethnic characteristics, the traditional peculiarities, the customs, the sources of the origins of popular inspiration are the base of folklore and folk groups that represent and hand it down.
The initiative of the birth in Alatri of the International Folk Festival Folk is of our founder Flavio Fiorletta; he realizes this important event, that has reached the half a century of activity,  given the need to make known and highlight the similarities and differences of different cultures in the world in our province and region.
It is organized by the Municipality of Alatri with the collaboration of the "Pro Loco", our Association and other local associations. The Alatri Folk Festival has taken the new name of International Folk Festival "Flavio Fiorletta", to honor the spirit of initiative of its and our founder.
FOLK GROUPS TO TAKE PART AT FESTIVAL: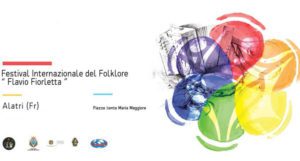 from 2021 to today
2021
COLOMBIA ("Sector Sonero") – INDIA (Apsiros Bollywood eventi Italy) – SENEGAL (Kora Hero) Li Pistacoppi di Macerata – Bandierai dei quattro quarti de L'Aquila – Corale Luigi Venturini di Tagliacozzo – La Takkarata di Fragneto Monforte – Ma-Tru di Amatrice – Sbandieratori e musici dei 7 Rioni Storici di Carpineto Romano – ALATRI (Aria di Casa Nostra–Gli Paes Mei) – Ospiti: Officine Meridionali (G.Gabriele-E.Vassella – Cremonesi – De Lisi)
from 2011 to 2020
2020 – Causa pandemia Covid_19: Celebrato il 50°  "Omaggio al Festival" con mostra di costumi tradizionali internazionali, di fotografie e manifesti. Musica e danze a cura  di Aria di Casa Nostra e Gli Paes Mei
2019
ARGENTINA (C.A de danzas Lasuma) – BOLIVIA (BalletLibertad) – MACEDONIA DEL NORD (Folklore Ensamble Grigro Prlicev") – KENIA (Shofco Theatre group-Nairobi) – MESSICO (Nahui Ollin-Puebla) – ECUADOR (G.D. Tradicional Universidad Tecnica del Norte) – G.F. La Takkarata (Fragneto Monforte) – G.F. Arlecchino (Bergamo) – Sbandieratori  Lo scudo di Lepanto (Marino) – Sbandieratori e musici dei 7 Rioni Storici di Carpineto Romano – ALATRI (Aria di Casa Nostra in video saluto–Gli Paes Mei)
2018
COLOMBIA ("Estesis Danza" di Bogotà) – THAILANDIA(Triam Udom Suksa Nomklao Samut Prakan Dance Troupe) – MACEDONIA (Aleksandar Turundzev) MARTINICA(Tifermasc) – CROAZIA(Kud Bizovac Culture and Art Society) – BOTSWANA (Ngwao Letshwao Performing Arts) – Sbandieratori e musici dei 7 Rioni Storici di Carpineto Romano – ALATRI (Aria di Casa Nostra–Gli Paes Mei)
2017     BOLIVIA (A.D.F. "Adaf"_LaPaz) – COLOMBIA (D.E."Luis Soto Duran")- MESSICO (Vallaria Azteca) – GEORGIA (D.E. "Keika Kutaisi") POLONIA (Zespol P.Borur) (Zespol R. Bycklewianka) – Le contrade_Spigno Saturnia (LT) – Sbandieratori Carpineto Romano (FR) – Sbandieratori Quattro venti (AQ) – ALATRI (Aria di Casa Nostra–Gli Paes Mei)
2016     MARTINICA (C.D. pom'Kanel) – AEGENTINA (Tango Pasion) – UCRAINA (G.D.Barvinchock) – BOLIVIA (Ballet "Libertad"_Taija) – MOLDAVIA (A.D.P."Veselia") MADAGASCAR (G.F."Sogotro") – PORTORICO (B.F.Guarionex) – RUSSIA_REP.della CALMUCCHIA (N.E. "Bumbin Orn"_Eusta) – G.F. S.Vito (LT) –Sbandieratori Carpineto Romano (FR) – ALATRI (Aria di Casa Nostra)
2015     TAIWAN (DoDo A.D.G_Tou-liu) – CROAZIA (F.D.E "Preporod"_DugoSelo) – PARAGUAY (E.F."S.Lorenzo") – ARGENTINA (C.D."Danzargentina")COLOMBIA (C.D."Orkéseos"_Bogotà) – BRASILE (Balè Popular de Campina Grande) – Città dei Trulli (BA) – ALATRI (Aria di Casa Nostra)
2014     TURCHIA (Zihnipasa P.S.F.D) – BIELORUSSIA (Radost F.E.) – UNGHERIA (Takacs Mihaly) – KENYA (E.S.ofAfrica) – MESSICO (B.F. Monterrey)Re Pambanelle (BA) – ALATRI (Aria di Casa Nostra)
2013     ARMENIA (Tonatsuyts F.T._Yerevan) – MADAGASCAR (Sagotro Folklore_Antsiranana) – RUSSIA (Russia D.C.P.S._Sanpietroburgo) – COLOMBIA (C.A.D_Cali) GRECIA(F.D.G.of Valmaada A.G_Anatoliko) – MESSICO (B.F. de Orizaba) – Norbensis (LT) – Fondi (LT) – ALATRI (Aria di Casa Nostra–Gli Paes Mei)
2012     RUSSIA (Ural F.D.G. T-U."Solnechnaya Raduga_Pern) – PORTO RICO (Taino Bomba_Vega Baja) – SERBIA (Kablovi_Jagodina) – PERU (A.C. "Yawar Chicchi)
BULGARIA (B.F.E."Graovo"_Pernik) – COREA DEL SUD ( Kotti Jiphyun/Choi Sun D.C._Seoul) – Etnomusicantes (FG)
2011      BRASILE_Amazzonia (Tribo Iran Tribal) – COLOMBIA (I.F.C."Otrora"_Tunja)- CANADA (Hawaian Pacific D.E_Toronto) – DAGHESTAN (E.Echo Mountains_Chasavjurt)
GEORGIA (Ajarian S.D,S.C._Batumi) – TAIWAN (Aboriginal Y.F.D.T._Taichung) – Cominia Gens (FR) – Norbanus (LT) – ALATRI (Aria di Casa Nostra–Gli Paes Mei)
from 2001 to 2010
2010     TAIWAN (Yi-Tzy F.D.Thatre) – SERBIA (Kruna) – MONGOLIA (Inner Baotou D.G.) – SPAGNA (B.Esanol de Latina) – BURKINA FASO (Faso Tilè Foly) -I Castruviddari (CS) – ALATRI (Aria di Casa Nostra)
2009     PORTOGALLO (R.F. de Gouveia) – FRANCIA (Cercle Celtique Olivier_Clisson) – COLOMBIA (B.F.Farallones) – CIPRO (Kyrenia Y.C.F.D) – BIELORUSSIA (D.Group"Kryzahachok) – Lu Scegnu (SA) – G.F. Città di Arpino (FR) – ALATRI (Aria di Casa Nostra–Gli Paes Mei)
2008     BULGARIA (Ensemble"Chan") – Trinacria (AG) – ALATRI (Aria di Casa Nostra–Gli Paes Mei)- BENIN (Le Perroquet CRN) – ARMENIA (A.F.D."Geghard) TURCHIA (F.G. "Fomget") – VENEZUELA (Ass.Civil "Wazabara") – I Tencitt_Cunardo (VA) – ALATRI (Aria di Casa Nostra–Gli Paes Mei)
2007     PORTOGALLO (Cancioneiro de Cantanhede) – THAILANDIA (Art Ass.Youth Dance) – CILE (B.F.Municipal_Temuco) – PARAGUAY (Ete) – COREA DEL SUD (Kottu-Jiphun_Seoul) –
2006     SPAGNA (G.M.D. de Fungirola_Malaga) – BULGARIA (F.D.Ensemble Sofia6) – ARGENTINA (Istituto El Cimarron_SantaFe) – GEORGIA (F.E. Minate_Tblisi) -TURCHIA (B.Editumy Merchezi_Izmir) – WEST PAPUA (Sampari Manokvari Folklore D.G.) – I quattu pizzi_Valle Agricola_CE – ALATRI (Aria di Casa Nostra–Gli Paes Mei)
2005     RUSSIA(F.E. « Yunost »_ Zhukovskiy) – MESSICO (Taller de danza Mexicana"Zimatl"_Oaxaca) – SUDAFRICA (Amazwi Kazulu C._ Durban) –  – ALGERIA (Tuareg) THAILANDIA (Surindra RajabhatUniverity_ Bangkok)– UNGHERIA ( G.F. Sormás_Zala-Nagykanizsa)- CAMERUN –  Trinacria (AG)– Castelforte (LT) – Coro L.Pisegna di Collelongo(L'Aquila) – Campobasso – Sermoneta
2004     MALESYA (Era Buda Papaya papar) – VENEZUELA (Escuela Municipal de danzas Mariara) – PORTOGALLO (Ranchi tipico de S.Mamede infesta) – GHANA (Sogo di Accra) –SPAGNA (Esbart Dancaire Renaixaca_Barcellona) – CONGO (Codaf di Kinshasa) – COREA DEL SUD (Han Wood D.C) Funtan'e olia_Sinnai (CA) – A'Paranze_ Termoli –
ALATRI (Aria di Casa Nostra–Gli Paes Mei)
2003     COLOMBIA (Danzas Folcloricas "Carmen Lopez"),  MESSICO (Ateneo Fuente),  SPAGNA: CANARIE (La Parranda Cuasquias),  ASTURIE (Avante Cuideiru), SLOVACCHIA (Druzba- Trencin), ROMANIA (Tara Faragasului), Vecchia Girgenti (AG) – I Gioppini (BG), Città di Palagianello (TA), Gli Singhiri_Coreno Ausonio (LT)  Sbandieratori Ducato Caetani  (LT) –  Apiro (rappresentanza)
2002     TURCHIA (Izmir Mustafa R.P.I.Okulu_Smirne); MONTENEGRO (Budo Tomovic_Podgorica) – SPAGNA(Tierras del Cid_Burgos) – CROAZIA( KudZeljznicar_Varazdin)- PORTOGALLO (Pampilosa do Botao) – Sbandieratori Ducato Caetani  (LT)
2001    TAIWAN (Ti Tzy Fok Dance Troup) , RUSSIA (The Russian theatre of National Dance) – , GRECIA (Gruppo Folk Delfi) , THAILANDIA (Thai Cultural Dance Show) , ISRAELE (Hora Beep Sheva) , ARGENTINA (Ballet El Cammaruco de Comodoro) , MESSICO (Ballet Ateneo Fuente),  Aria di Casa Nostra – Gli paes mei – ALATRI
from 1991 to 2000
2000     BULGARIA – CINA – DAGHESTAN – GIBUTI – KENIA – SPAGNA – TOGO –  POLONIA
1999     SPAGNA – COSTARICA – ISRAELE – BRASILE – ARGENTINA – MESSICO – TURCHIA – COREA – Ortisei (TN)– Vald'Akragas (AG)
1998     FRANCIA – MACEDONIA – MARTINICA – GRECIA – ARMENIA – CALABRIA – SICILIA
1997     HAITI, COLOMBIA, ALGERIA, INDONESIA, ISRAELE, ROMANIA, TURCHIA,   LITUANIA, JUGOSLAVIA
1996     BRASILE (Nova Prada – Conjunto Regional de Folklore de Querencia do Prada),  SPAGNA (Coros y Danzas Virgen del Rio de Almeria – Uercal Overa ),  SUDAFRICA (The Mmabana Traditional Dancer), POLONIA (Mala Wielkopolska di Poznana), GEORGIA ( Dance Company "Mindia"), GUINEA (Callet Folclorique Soleil D'Afrique _Conakry )
1995     CINA (Xinjang SDE di Uygur), TAIWAN  ( The Taipei FDTroupe),  EGITTO (Zagazig El Sharkia FT),  POLONIA (Bialy Dunacec-Bialoduna Jcanie),  ROMANIA (Ploiesti Balada Ptahovei),  SPAGNA (El Tencal de Carlet di Valencia),  Aria di Casa Nostra – ALATRI – I Cumparitti – ALATRI
1994     CROAZIA – ROMANIA – PERU' – BULGARIA – FRANCIA
1993     ARGENTINA – BIOLORUSSIA – ISRAELE – MARTINICA – MESSICO
1992     UNGHERIA – BULGARIA – UCRAINA – FILIPPINE
1991      UNIONE SOVIETICA (Viasanka di Minsk) UNGHERIA (Hortobagy di Debrecen) FRANCIA (Majorettes di Sant Etienne),  Gli paes mei-ALATRI – Avola Folk di Avola (SR)
from 1981 to 1990
1990     BELGIO – BULGARIA – GRECIA – SPAGNA – UNIONE SOVIETICA – Sardegna
1989     CECOSLOVACCHIA ( Konopa di Kjiov) – JUGOSLAVIA (Sarajevo) – POLONIA (Poletx) –
PORTOGALLO (Nazarè) –FILIPPINE – ALATRI
1988    Non effettuato
1987     MEXICO: (Città del Messico) – UNGHERIA (Debrecen) – SPAGNA (Granada) – ORTISEI – AVOLA – ALATRI (Aria di CasaNostra) –ARNARA
1986     POLONIA ( Dabroviacy) – GRECIA ( Morulenos) – JUGOSLAVIA (Kud Ivan Mestrovic – Vrpolie)
ALATRI (Aria di Casa Nostra)
1985     AUSTRIA (Stinatz) – SPAGNA – (Segovia) – MALTA (Astra- Gozo) – JUGOSLAVIA ( Titograd) –
ALATRI (Aria di CasaNostra)
1984     JUGOSLAVIA (Sarajevo) – UNGHERIA ( Szazsroserejo) – FILIPPINE (Kumaiangy) GRECIA
(Silvana di Bucuresti) –ALATRI (Aria di Casa Nostra)
1983      PORTOGALLO (Ta-Mar di Viana do Castello) – ISRAELE (Gruppo Jerusalem) JUGOSLAVIA (Tine Rozanc) -UCRAINA(Les Rouzmarines) – SPAGNA (Siviglia) ALATRI (gli Urtati) VICO NEL LAZIO-
ALATRI (Aria di Casa Nostra)
1982     FRANCIA (Majorettes di Saint Etienne)-JUGOSLAVIA (Abrasevic_ Belgrado) – SVIZZERA(Courales di Ginevra) –  POLONIA(Dabrowlacy) – ROMANIA (Deva) ALATRI (Aria di Casa Nostra)
1981      BULGARIA (Razgrad) – CECOSLOVACCHIA (Konopa_Kjov) – GRECIA (Katerini)- ISRAELE
Gruppo Jerusalem) BELGIO (Liegi) ALATRI(Aria di Casa Nostra)- Banda cittadina – Paliano
from 1971 to 1980
1980     Non effettuato
1979     UCRANIA( Rosmarines) – AUSTRIA (Edelweis_Klagenfurt) – JUGOSLAVIA (Karol Pahov_Piran) –
PORTOGALLO (Rancho do Duro_Oporto) –  ISOLE FlLIPPINE (Manila) – FRANCIA Gruppo la
Ciamada di Nizza -Gruppo la Clicca (AO) – Capriva del Friuli- – Gruppo le Tradizioni_Minturno (LT)-
Strangolagalli (FR)
1978     UNGHERIA (Bartok_Budapest) – GRECIA (Atene) -Tempio Pausania (sa) – Baranello (CB) La
Corale_ Sonnino (LT)
1977     ROMANIA (Hora_Izpiceni) – MESSICO (Coahuilpeco_Saltillo) – SPAGNA (Ronda_Malaga e
Giyon_Oviedo) -TURCHIA (Ankara) –  ALATRI (Aria di Casa Nostra e  Banda Cittadina)
1976     JUGOSLAVIA (Abrasevic_Belgrado) – POLONIA(Krakovia) – Gruppo la «Lanterna (GE) – Cagliari
S.Giovanni in Galdo – Atina –  ALATRI (Aria di Casa Nostra) – Banda Rutini (LT)
1975     FRANCIA (Majorettes_Saint Etienne)- BULGARIA (Dimitrov) –POLONIA (Warsawa) – SPAGNA
(LogroFIo  e Ronda di Malaga) – Minturno (LT)-Banda di Vignanello -Banda di Monteporzio – ALATRI (Aria di Casa Nostra e  Banda Cittadina)
1974     ROMANIA(Bucarest)–UNGHERIA (Szezardi) -Tagliacozzo -Boiano -Messina -Canzo di Corno
Banda di Marta – ALATRI (Aria di Casa Nostra e  Banda Cittadina)
1973     JUGOSLAVIA (Saraievo) – Saint Girons – Bergamo – Padova – Settingiano -Viareggio- Norma (LT)
ALATRI (Aria di Casa Nostra e  Banda Cittadina)
1972     FRANCIA (Monaco_Montecarlo)-Maracalagonis -Castrovillari -Gravina di Puglia –Lauro di Sessa
Boiano -Banda di Latina- ALATRI (Aria di Casa Nostra)
1971     Atina -Guardiareggia -Lucignano d' Arezzo – Apiro – San Paolo Matese – Jugoslavia
1950
1953     Prima Rassegna folkloristica di Alatri: Atina -Casalvieri -Vicalvi -Villa Latina -Pofi –